COMMENT RÉDUIRE LA QUANTITÉ D'EMBALLAGES DANS LA RESTAURATION RAPIDE?
-
HOW TO REDUCE PACKAGING IN FAST FOOD RESTAURANTS?
1

-
Les salariés connaissent les restaurants qui se situent à cinq minutes de leur bureau mais ne s'aventurent jamais au-delà.
-
Employees know the restaurants located five minutes away from their work place but they rarely go further away.
.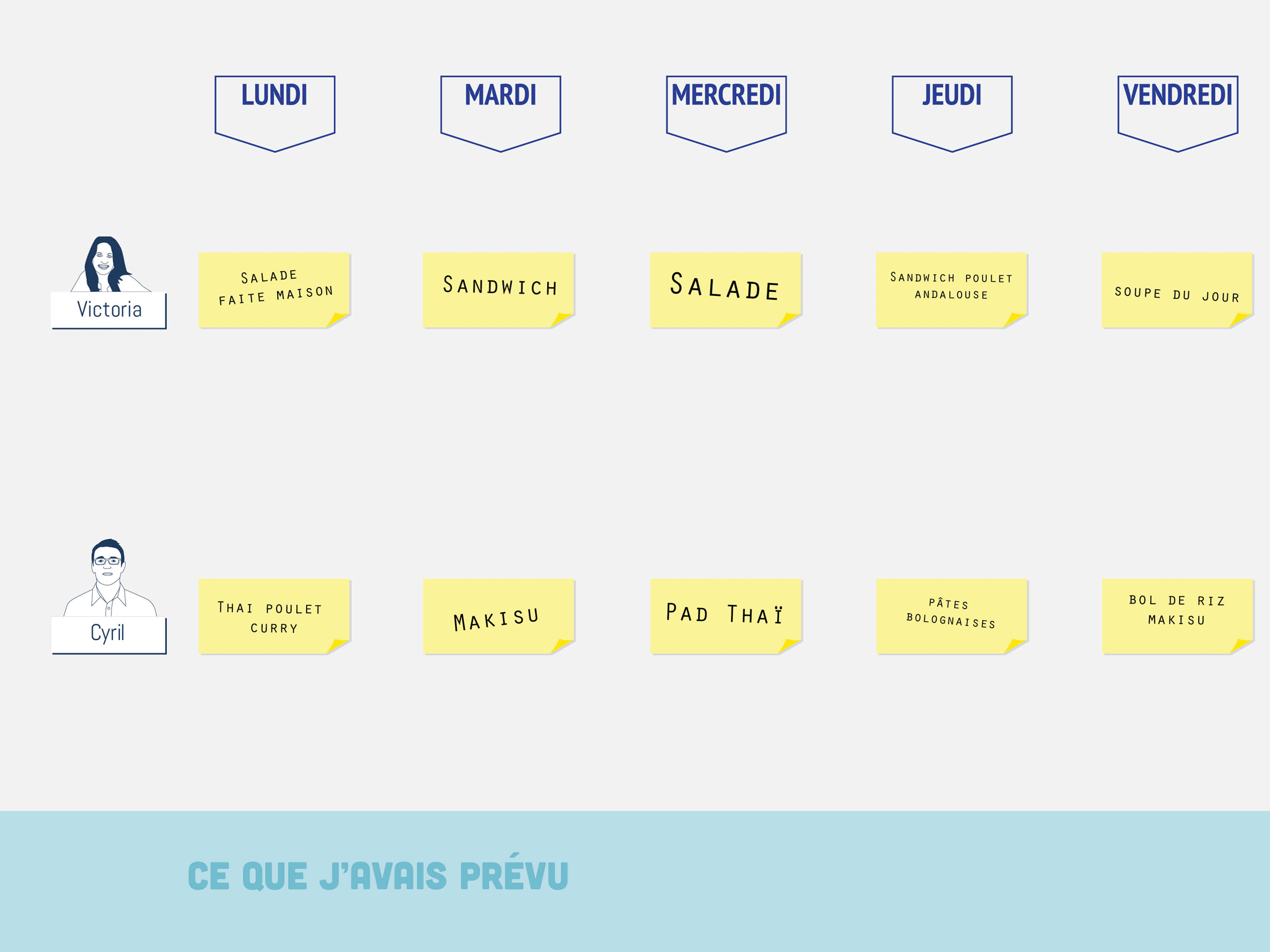 2

-

Lors d'une réunion avec les salariés d'un même quartier, nous découvrons que même si ils prévoient leur repas en avance, tout peut changer au dernier moment.
-
During a meeting with employees from the same neighborhood, it appears that everything can change at any time even if they prepared their lunch before.
3

-

La journée du restaurateur s'articule autour du "rush". Il organise au maximum ce qui peut être préparé avant ce moment chronométré.
-
The restaurateur organizes his day around rush hour. He tries to complete as many possible tasks as possible before hand.
1- Comment mettre en place un système de contenants réutilisables?

2- Quels sont les principaux besoins des utilisateurs?
-


DIRECTIONS
1- How to set up a system allowing the use of reusable packaging?

2- What are the main users needs?
1/La veille, le restaurateur répartit ses invendus dans les boîtes et publie les menus sur l'application.
-
The day before, the restaurateur fill in the boxes with leftovers and share the menus on the website.
2/Le matin, les employés du quartier peuvent réserver leurs repas parmi les menus publiés.
-
Each morning employees from the neighbourhood choose and book their lunch.
3/"Le délivreur" va chercher les repas commandés chez le restaurateur et échange contre des boîtes propres.
-
The "délivreur" pick the new lunchboxes up and exchange for clean ones.
4/A l'heure du rendez-vous, l'empoyé échange son repas contre la boîte de la veille.
-
During the appointment, the employee trades his box from the day before for his day's lunchbox.
5/L'après-midi les boîtes récupérées sont lavées.
-
During the afternoon, the boxes that were collected are cleaned up and are ready to be used the next day.